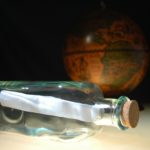 Messaging is critical to your nonprofit's ability to captivate and cultivate people who care about your mission. It's a way of engaging people in your work on an ongoing basis.
As cliche as it may sound, messaging is a journey, not a destination. It isn't something you do once and then check off your to-do list. Depending on your organization, legs of the journey might include crafting a tagline, developing a messaging framework and coming up with an elevator pitch that makes people say, "How can I learn more?!"  Yet just as a journey through Europe wouldn't be complete if it consisted only of visiting the Eiffel Tower, your messaging journey isn't done as soon as you have a snappy tagline.
So many organizations settle for messaging that is mushy, muddled, or mediocre– your mission deserves more! It's time to embark on your very own messaging journey.
To get you excited about your journey, in December, we will showcase messaging that inspires and informs, that compels action and awe, that makes you want to do something big and bold to make the world a better place. Then, in January, we'll kick off a Free DIY Messaging Bootcamp. More on that later in the month, but in the meantime, make sure you sign-up for Tune-Up Tuesday Videos coming in January! These will be short (~2-3 minute) videos that are specific and practical, delivered straight to your inbox.
To get the inspiration flowing, here's a video featuring Scott Harrison, Founder & President of Charity: Water, an organization that brings clean, safe drinking water to people in developing nations. He talks about the role messaging has played in their ability to grow from an idea to an organization serving more than 1,000,000 people.