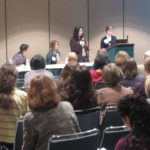 We had a blast at the NDOA Winter Conference! In addition to seeing old friends and meeting new ones, Erica moderated a panel with some of Seattle's savviest social media folks on "Going viral: using your social networks to ignite supporters". Each of the nonprofit pros on our panel shared real-life stories about how they have used the power of social networks to maximize their organizations' efforts to move 'believers' to action on behalf of their causes.
Following is a recap of our 75 minute whirlwind discussion. Thanks again to the amazing panelists and all who attended!
Some Video Highlights from Our Session Today


And here is Erica's prezi (this is what is playing in the background if you watch the vid above)
Panelist's Tip's & Tricks for Social Media Success

How to Listen
Check out free tools like Google Keyword Search or Twitter Search
Set up Google Alerts for keywords.
Find a few experts or influencers in your field online: start by just observing what they do.
How to Engage
Check out how Charity:Water engages their supporters for a great example.
Ask for opinions.  Spark a conversation about an issue related to your organizations' mission.
Find out what kind of content your supporters want.  How? Ask them. (Have a Follower Meet-up Pizza Party!)
Give your organization a persona.  Ask: "If my organization was a person, who would they be?" It's easier for an organization to "be real" if they imagine themselves that way.
Tools for Measuring ROI
Simply Measured: Easy Social Media Measurement. Reports built in excel.RowFeeder:  Social Media Monitoring and Analysis made easy.Export.ly: Easy Social Media Data Exports.
Care 2's Social Network Calculator: Use this tool to calculate an estimate of cost and return on investment for the recruitment and fundraising efforts of your staff in social networking sites.
Tweetreach: Guide to analyzing your Twitter reach.
Start with a simple monthly report, taking baby steps to figure out what is most important to measure for your organization. (Remember: go back to your goals!)
Constantly evaluate and re-evaluate – it's a process!
Find out where online conversations about your organization or field are already happening and engage there.
Who are some Influencers and Experts on Social Media?
Our Favorite In-Person Social Media Resources

Download Session Handouts
HANDOUT #1: Common Nonprofit Social Media Concerns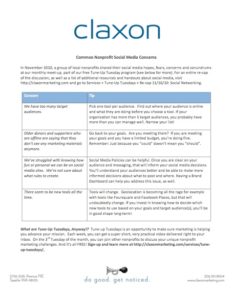 HANDOUT #2: Four Social Media Tools for Nonprofits
HANDOUT #3: The 123 Marketing Mechanism Calendar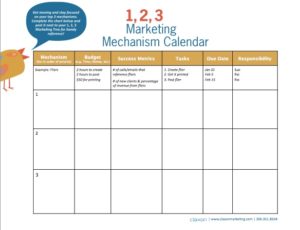 Did you attend the conference?
What did you learn? Share your a-ha moments below!