[This is the latest weekly post from our intern Tessa. You can find all her posts here.]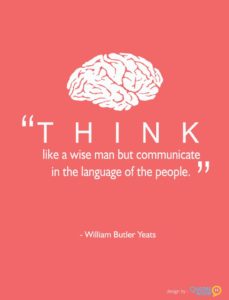 "Think like a wise man but communicate in the language of the people." -Yeats
While I don't particularly esteem this quotation because of its condescension to "the people" and its gender exclusionary term "wise man", it does present a worthy sentiment.
For those of you that I didn't lose already, let me rephrase that:
I don't like this quote because it's condescending, and it excludes anyone who isn't male. But it does make a good point.
(You can obviously see the difference.)
To get your message noticed, it's helpful to use unique words rather than the same old same old. However, there's an important disclaimer to that advice: Make sure you are using words that are easy to understand. The key word is easy. You don't want people to have to re-read your mission statement three times to finally get what you do. You don't want to sound like you wrote your donation appeal with the help of a thesaurus. And you don't want to overwhelm your audience with syllables.
An easy test you can use is this: Ask yourself, "Would I use this word/ phrase/ sentence in casual conversation?" Most people understand a "worthy sentiment", but most people wouldn't say it out loud. To make your message accessible, write like you speak. There are some exceptions that may have the opposite effect, such as using slang words and jargon that outsiders wouldn't understand. But in general, if you can't see yourself using it in conversation, don't use it in your nonprofit's messaging.
"Think complex thoughts but communicate with simplicity." -my revision of Yeats.
[Photo retrieved from QuotesWave.com. Website:http://www.quoteswave.com/picture-quotes/2618]