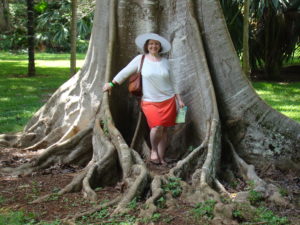 Our Research Director, Vicki, recently returned from a well-deserved vacation in Hawaii. This is a story about what happens when someone who focuses on improving Mission Statements for a living goes on vacation.
While on Kauai, we toured the McBryde Gardens, a research garden of the National Tropical Botanical Gardens. The tour guide rattled off their Mission Statement. This is from their website (as I couldn't remember it and had NO IDEA what she said).
"The mission of the National Tropical Botanical Garden is to enrich life through discovery, scientific research, conservation, and education by perpetuating the survival of plants, ecosystems, and cultural knowledge of tropical regions."
According to readability-score.com this has a NEGATIVE (didn't know that was a thing) Flesch-Kincaid Reading Ease Score of -8.1 with an average grade level of 22.1.
Then the tour guide said, "We have a long mission statement, but we save plants."
Now that I remember!
If I was advising them I would augment to "we save topical plants", as 'tropical' distinguishes them from other gardens.
If nonprofits are to put their Mission Statements front and center they should be statements that people can remember and repeat. That's why we spend so much time working and re-working Mission Statements in Words on a Mission. (Watch this short video and find out why.)
Glad Vicki had a good time in paradise. Sad she had to run into a bad nonprofit Mission Statement even while on vacation!
Readability Statistics for this post: Reading Ease-52.7, Grade Level 9.7