Ah the elusive balance between informing and inspiring. How do you compellingly speak to the features of your work and the benefits while keeping it short n' sweet?
If you're wrestling with this, the approach we used for this Microsoft cause campaign might be really handy.
Quick background: To celebrate their first 20 years of certification, Microsoft Learning decided they'd rather create a year-long campaign to create better careers and better lives for aspiring IT pros around the world than blow out 20 candles on a big ol' cake. For the campaign, there are 20 different ways for established IT pros to pay it forward. The ways will be revealed throughout the year. Three are currently active.
Now for the handy tip: Here are the first three Calls to Action (CTAs). Note that each one follows the same pattern: Feature. Benefit.



The advantage of this approach is that you can inform and inspire. You can inform them of the action you want them to take while inspiring them by showing the difference their action will make.
No single approach works in every instance, but if your audience responds well to the inform/inspire approach, give this one a whirl.
Bonus: Saw this ad while out and about earlier this week. (I was stopped when I took the picture, for the record. ) Washington State Lottery used it on their current bus campaign: "When you play, students win." Same approach: Feature, benefit. (The picture is lousy but you get the point!)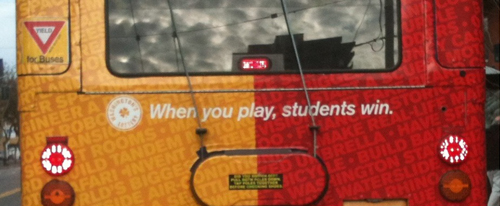 How do you balance features and benefits?