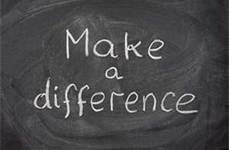 Yesterday, we kicked off the latest Accelerator.
Setting goals is a BIG part of what we do on Day #1. Because if you're not clear on your goals, you won't get good results.
Raising more money is generally high on participants' List o' Goals. And so we always talk a lot about retention, acquisition, balancing the two, etc.
If, like them, fundraising is one of your goals, BEWARE! You're risk of falling into a very tempting trap: believing that raising money is an end goal. It's not. It's a means to an end.
You raise money SO THAT…you can lessen summer learning loss.
SO THAT…struggling families can access life-changing resources.
SO THAT…we have forests to hike in and streams to play in.
SO THAT…small business owners can become financially fluent.
SO THAT…kids learn to express themselves through arts so they can thrive in school and in life.
In the day-to-day craziness of grant writing, donor stewardship, event planning and the like, it's to forget that fundraising has a higher purpose.
Always finish the sentence: "We're raising money SO THAT…"
What's your SO THAT?