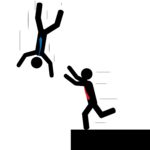 Fundraising and marketing teams often trip over each other's feet when dancing the Marketing-Fundraising Tango. This can be especially true when it comes to managing relationships with individuals who engage in multiple ways, e.g. someone who volunteers, hosts a table at the annual auction and is a major donor.
An exercise called Network Mapping is a handy way to avoid those awkward missteps and deepen relationships with key supporters.
We learned about Network Mapping in Beth Kantor and Allison Fine's excellent book, The Networked Nonprofit. The authors of the book, along with Danielle Bridiga and Marc Sirkin, gave a Care 2 Webinar on the Networked Nonprofit.   (Here's a link to a summary and the recording over at the Care 2 Frogloop blog…great fodder for a rejuvenating lunch.)
In a recent blog post Beth Kantor summed up the questions you ask when doing Network Mapping, "When you map your network, it tells you a story.  Who is connected to whom?  How are they interacting?  Where are the clusters?   Who are the influencers? Who are the bridge builders between clusters? Who is in the edges?  Who isn't connected? Who should I spend my time responding to and cultivating?   The analysis looks at frequency of interaction, relationship structure (two-way, one-way), and helps reveal structural similarities."
See how handy it could be for fundraising and marketing teams to have a shared understanding of the answers to these questions?!
There are many ways to do Network Mapping, many of which are laid out in this blog post by Beth Kantor, the Network Mapping It Gal of our time. Our favorite approach for first-time mappers is to use low tech tools like crayons or post-it notes to map out your network.  Sounds old-school and it is–it also works really, really well.
Has your organization mapped its networks? Any success stories to share?