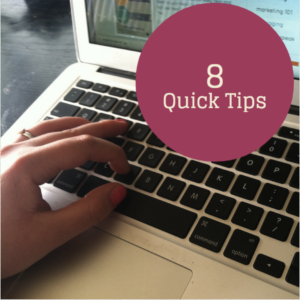 Crafting messaging for your nonprofit can be hard work. How do you get someone to hear your message, let alone remember it?
No one-size-fits-all formula for engaging writing exists– especially since each of us have a different audience. However, these 8 easy-to-follow tips will likely increase your listeners' engagement, no matter who your audience.
Use Active Voice
A few months ago, I wrote a post about how to convey confidence through writing. Confidence gives the impression that you really know your stuff, and that's important. The number one way to convey confidence is to write with an active voice. This means reducing your number of "to be" verbs such as "are", "is", "was" and "will be". "We are preserving the environment" and "Our building is a safe space for homeless youth" improve with just a few minor adjustments: "We preserve the environment" and "Our building offers homeless youth a safe space."
Involve Your Listener
We all want to feel like we're a part of something. See my post on You and Your for advice on how to bring your listener into your story.
Tell a Story
Speaking of your story, make sure you're telling one! You may think the facts will speak for themselves, but without a story to frame them in, people will forget them or overlook them all together. It's in our nature as humans to enjoy and respond to stories. So, pick a good one and get writing. And promise to tell true stories, because people can see through a lie or embellishment.
Be Clear
Don't use sentences that last for nearly a paragraph. Don't use fancy, long words that people have to stop and think about what they mean. And don't use jargon that only people within your organization will understand. Your listener will appreciate it.
Choose Better Words
We've have a whole series on word choice called #WordsThatWow. Check it out!
Keep it Short
There's nothing worse than a three-page letter from a nonprofit, a webpage that requires an extraordinary amount of scrolling to get to the bottom, or a person that talks for five minutes straight when asked about their organization. Know your key information, and figure out the easiest way to say it.
Leave Room for Inquiry
You want people to engage with you. If you spew out pages upon pages of everything anyone could possibly want to know about your organization, you close to door to inquiry. Say enough to get people interested. Interested enough to ask more questions.
Be Yourself 
No one wants to feel like they're talking with a robot. Let your personality and the personality of your organization shine. People relate to other people, not distant-sounding, colorless words.