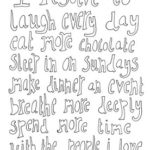 Historically, at the end of each year, I set six resolutions: three personal and three professional. This year, I would like to add three more to the mix.
These three are the resolutions I'd love to see all mission-motivated marketers stick to in 2012. Like drinking 8 glasses of water a day or stretching after every run (two of my three personal resolutions), these aren't fancy, far-flung resolutions. They are the ones that, if you stick to them, will yield Big Results in 2012.
Do Less: Release yourself from the notion that you have to do it all. Facebook, newsletters, Twitter, annual report, Foursquare, Tumblr, Storify. All can be great tools when it comes to marketing your mission and they all take time and money (as 'time is money') to do well. Both of those are scarce resources. Do less and you have time to do it well.
Keep your on-line presence fresh: A languishing website makes supporters think you're a languishing organization. Let your awesomeness shine through! At least once a month, go to all your on-line properties and make sure they're up-to-date. For your website, update at least one page with brand new content. Block the time on your calendar now.
Post your Top 3 Goals where you can see them: Research shows that writing down your goals and sharing them with someone else ups the chances you'll achieve them by 33%. I haven't found research that putting them where you can see them also helps, but have seen first-hand what a different it makes. Write 'em down. Put 'em up.
Those are my top 3 resolutions for mission-motivated marketers. What resolutions do you have for 2012? How do you plan to make them stick?