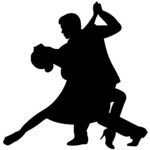 You've undoubtedly heard the expression: It takes two to tango. What you might not have realized is that, if you do nonprofit marketing and/or fundraising, you're part of a tango-ing twosome.
That's right. As a nonprofiteer you are as passionate about your mission as Argentinian tango masters are about their lifts, twirls and sultry gazes. Unfortunately, the Marketing-Fundraising Tango often involves two dancers swirling around the dance floor on their own, rather than as a dynamic duo.
We all know that when marketing and fundraising coordinate their steps, it's a sight to behold. Donors get a print newsletter with a hand-written note from their fav development officer. Volunteers are highlighted in a blog post that then gets forwarded to fans and friends. Donor profiles are so compelling they end up in Facebook posts all over the world wide web. And messaging is clear, consistent and compelling regardless of who wrote it, says it, or tweets it.
You might be rolling your eyes and thinking, "We dance more like Elaine from Seinfeld than [Argentinian tango legend] Mariana Mazzola!" Don't worry–anyone can learn to tango. Really.
To get you started, here are three simple things you can do to dramatically improve your Marketing-Fundraising Tango:
Write short n' sweet job descriptions for your marketing and fundraising teams. If you write a job description, it becomes clear who is in charge of what. No two organizations are alike. In some organizations, the fundraising team handles the newsletter. In others, that's up to the marketing team. Same with the website, annual report, blogs, events, etc. The point is to get clarity for your organization so you can dance in concert. The job descriptions shouldn't be long or take long. Try to keep them to 2-3 sentences. Then share them with both teams and discuss at your next All Team Meeting (see #3 below).
Once you're clear on which team is in charge of what, have each team set their top 3 goals for the year. Then make sure everyone knows what they are. It sounds so obvious, but it's shocking how little info-sharing happens between teams. It's handy if you know where your partner is headed on the dance floor! [Note: Even if you are a team of 1, do #1 and #2. It'll bring clarity and focus to your work, which is especially important if you're  a super small shop!]
Dancers get good because they practice. They learn to read the other person's body language and adjust accordingly. So hold weekly All Team Meetings where everyone from marketing and fundraising gets to know what's going on across both teams. Since most of us need an extra meeting as much as we need two left feet, think about merging existing team meetings or at least shortening them so you're making the most of the time you're already investing in meetings. By knowing what your partner is doing and thinking as a marketing-fundraising duo, you will naturally begin to think about how fundraising and marketing efforts can augment each other.  For example:  if your marketing department posts a great article, the development director could send the link to a donor to make sure they saw it. Or the development department could post a story highlighting a top donor once a month on the blog and the marketing department could then use the profiles in the quarterly newsletter. Over time, you will be able to anticipate each other's steps and take full advantage of your partner's fancy footwork.
With job descriptions, goals and weekly meetings, you'll be doing the Marketing-Fundraising Tango in no time!