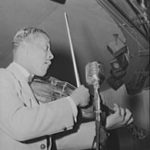 Ray Nance  is famous for his trumpet solo in the Duke Ellington orchestra hit, 'Take the A Train'. He played this solo every night the orchestra played from 1941-1963. Although he did variations on it, he always started out by playing the original versions.
What makes great jazz musicians great is that they master the basics first.
This applies to mission-driven messaging.
It is tempting to immediately start switching up your messaging (usually reverting back to what you're used to) when you first start using it. This is largely because–as with most things that involve change–when you change your messaging, it's uncomfortable.
Give it time.
Once you have mastered the basics, you can riff.