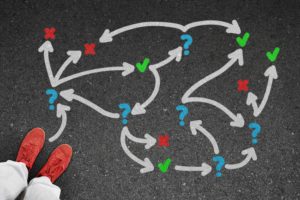 [The Language Lab makes it easy for you to put research to work for you and your mission. Each installment gives you research-backed intel on one specific way you can work happier, smarter, and more effectively. To stay in the know, sign up to get Language Lab missives delivered directly to your inbox.]
********************
The One Thing You Need to Know: If you want to achieve your goals, then use the words if and then. (See what I did there? Neat, eh?)
What Works?
Last week, we talked about multi-objective optimization–a concept and term that can give even the sharpest social sector trailblazers a brain cramp. So this week, I wanted to give you something that you could instantly and easily use!
This week, we're focusing on you, you, you. Can you apply this research to your organization? Likely, yes. But this is meant to make your life easier, happier, and more fulfilling.
Here goes.
Studies have identified a ridiculously easy way to increase your chances of success by roughly 300%. (Oh yeaaaaah.)
In her book, 9 Things Successful People Do Differently (a petit book that packs a big punch), Heidi Grant Halvorson advises that you decide in advance on when, specifically, you will achieve your goals. The in advance part is key. And that's where 'if' and 'then' come in.
For instance:
If it is 11:30 on a Tuesday or Thursday, then I will go for a 30-minute walk.
If I drink a cup of coffee in the morning, then I will drink a glass of water as well.
If it is 8pm on Sunday, then I will call my parents.
If you really want some goal-achieving magic to happen, put these things on your calendar.
That's it. Nothing this week on what doesn't work. Just what does work.

Want more?
If you want to read about the other eight things that successful people do differently but you don't want to commit to buying the book, then read Halvorson's Harvard Business Review article.

Hat tip to the magnificent Eric Barker at Barking up the Wrong Tree for putting this research on our radar.