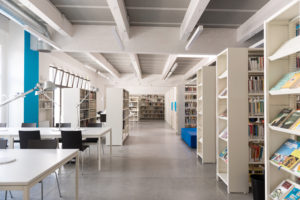 After writing this post on the Seattle Public Library's rebranding fiasco, I asked my graduate students at the University of Washington to take a pass at revamping the Library's Brand Statement…with one catch. They had to use the criteria I recommend nonprofits use for their Mission Statements:
Pick your verb first.
10 words or less (up to 15 if you have to).
For reference, here's the Brand Statement that library patrons were asked to evaluate in the survey sent out at the tail-end of the Library's rebranding effort:
The Library provides access to knowledge, experiences and learning for all. We preserve and create opportunities for the people of Seattle who make it such a dynamic and desirable place to live. When we're empowered as individuals, we become STRONGER TOGETHER
They worked in groups and had 15 minutes to complete the task. Here's what they came up with:
We welcome everyone with a space to gain knowledge and access to resources. [70/8.2]
We foster an inclusive space to learn, explore, and grow. [78.2/4.8]
We connect you to the ideas and information you need to engage in civic life. [73.2/7.1]
We open doors to knowledge and opportunities for the people of Seattle. [53/8.8]
Through access to knowledge and experience, we strengthen Seattle. [56/7.6]
We cultivate knowledge and learning experiences for all Seattle residents. [35.9/14.5]
Your library connects Seattle to knowledge, ideas, and opportunities. [41.3/10]
After each team put their submission up on the board, each student got to vote for which one most resonated with them. The first two on the list above were the winners.
I thought it was interesting that both used the word "space". I asked them if that accurately reflected today's Library, given how many people avail themselves of the Library's offerings without ever setting foot in an actual library, i.e. online. One student pointed out that space doesn't necessarily have to mean a physical space. It could be a broader definition of space. The space, wherever someone was, to learn and read and grow, whether that's on-line or in-person. Interesting point.
The following week, I did a similar exercise with nonprofit leaders who came to a training I did called Mission Statements & More, sponsored by Washington Nonprofits. This group didn't have to get the Reading Ease Scores because we were in a spot that had no access to the Internet and no bars on phones (gasp!).
Here's what they came up with (transcribed verbatim):
The Library brings the world to your fingertips.
The Seattle Libraries engage our community through education and imagination.
The library connects us to the world. SPL. Your access to a world of knowledge, creativity, and experiences.
Seattle Libraries empowers us through access to knowledge in a dynamic community.
Transporting Seattle through film, computers, and story – your Seattle Public Library.
Inspiring people to explore the vast learning resources available.
Explore the world through history, learning, and making connections.
Seattle Libraries encourage community knowledge and experiences by learning together.
Seattle Libraries nurture community knowledge, experience, and learning.
Empower individuals to become stronger together. The Library.
The Seattle library empowers individuals to experience learning in a modern, dynamic environment.
Accessible (free) learning experiences for the community.
Gaining access to knowledge, experiences, and learning to empower individuals.
Some of these are more taglines than Mission Statements (in that taglines aren't always full sentences). But still. Good work for 15 minutes!
Coming up with a 10 word statement that communicates the essence of what an organization wants to be known for isn't easy. One of the most common traps nonprofits get caught up in is over-thinking it all. "If we say this and not that, people won't understand what we're about! We need to say it all!!!"
That's why mapping your messaging to an Engagement Cycle is so handy–and effective. It releases you from feeling like you have to shove everything into one sentence. And liberates you to think about the bigger story you want to share, and how you can parse that out so it's easily digestible.
I'm not saying any of the statements above are spot-on for the Library. Without being privy to their What (goals and objectives) and Who (their target audience), we're not in a position to definitively comment on a How (in this case, messaging). But it's interesting to see how some library lovers who weren't part of process would communicate what they perceive the essence of the Library to be. Especially interesting when they're only given 15 minutes to complete the task.
Post Readability Stats: Reading Ease 55, Grade Level 8.6
***Claxon University–where smart nonprofits learn to use better words to create a better world.***