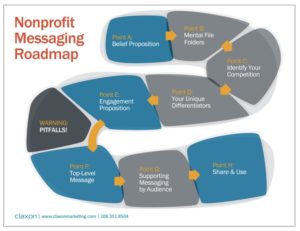 Over 300 organizations survived the inaugural Nonprofit Messaging Bootcamp. Congrats to each and every one of them!
If you still want to get your organization's messaging booty in shape, download the Nonprofit Messaging Roadmap and a Messaging Framework and then work your way through the blog posts and videos below.
We know you're busy so everything is short and sweet–you'll be in fab shape in no time!
Point A: Your Belief Proposition | Blog Post | Video
Point B: Mental File Folders | Blog Post |  Video
Point C: Identifying Your Competition| Blog Post | Video
Point D: Unique Differentiators | Blog Post | Video
Point E: Engagement Proposition | Blog Post | Video
Point F: Pifalls to Avoid | Blog Post | Video
Point G: Top-Level Message | Blog Post | Video
Point H: Supporting Messaging by Audience | Blog Post | Video
Point I: Share & Use | Blog Post | Video