This is the latest installment in our "Word of the Month" series to help non-profits make intentional language choices (while indulging our own word nerdery). Up this month? Remarkable.
A few months ago, we explained why we love the word remarkable so darn much. So much, in fact, that we're happy to leave "awesome" in the dust for this striking and incredible word (that basically means striking and incredible! How about that?)
We're guessing that you think your non-profit's cause is pretty remarkable. Yet,1 you also likely continue to use the same stock of words, such as "awesome" and "great". We looked to the Wordifier to show us how all of these words stack up: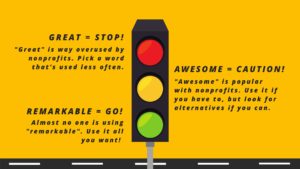 The word remarkable stems from the French remarquer which means, "to take note of" or "worthy of notice". Definitely something we all wish folks would do with our cause!
Okay, so now that we know why remarkable is so remarkable, what other words fall into this category?
Again, we turned to the Wordifier to advise us. (By the way, if you aren't familiar with the Wordifier and why it's a remarkable tool for choosing your non-profit's words, check out this post). And since verbs are the superheroes of our sentences, let's start there.
Here are a few remarkable verbs that the Wordifier gives us the green light on. I've bolded my personal favorites 🙂
Accelerate, activate, alleviate, anchor, broaden, collaborate, complement, confront, cultivate, deepen, defend, delight, elevate, eradicate, generate, ignite, illustrate, mobilize, motivate, nurture, rally, relieve, remedy, revitalize, shield, stabilize, steward, sustain, unite, uphold.
And here are some adjectives to spruce up your sentences:
Adept, apathetic, brilliant, colossal, deafening, diligent, disillusioned, endless, fierce, gentle, hopeful, hushed, illustrious, immense, lively, nimble, remarkable, rapid, resonant, somber, splendid, striking, swift, vigorous, zealous.
As you can probably tell from reading these words, they are not your standard, run-of-the-mills "awesomes" and "greats". Each of these words paints a picture, gives a concrete feeling, and most importantly, are not overused by non-profits.
What are your favorite remarkable words? Tweet to us @ClaxonMarketing.