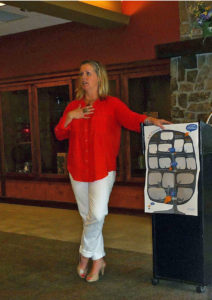 Last week, I spoke at the Washington State Nonprofit Conference and at a training up in Bellingham, WA hosted by AFP Washington (that's about 90 min north of Seattle for you non-NW readers).
We talked about five very bad assumptions most nonprofit folks make about language and how to shift those assumptions to increase your impact. Here they are:
You are the center of the universe: Whether or not that's true, if you want to engage supporters in your mission, shift your language to make it about them. (Hint: Liberal use of 'you' and 'your' will do the trick.)
Answers are more important than questions: Nope, questions are where it's at. When you hear someone's questions, you know what they're interested in. So shift your approach so you proactively invite questions.
You're being strategic with your words: Unless you're crystal clear on what success looks like, and who you're trying to reach with your words, you're not being strategic. Shift to a habit of always being clear on whose ears need to hear your message. The 1, 2, 3 Marketing Tree poster (which you can see in all its glory in the picture above) can help you make this shift.
People can understand you: Um, not if you're using jargon and fancy phrases. Knock that off! You want to shift so your language is free of jargon and fancy phrases. That makes it easy for people to understand you and repeat what you say.
Nouns are more important than other parts of speech: Yeah…no. I've said it before and I'll say it again and again–verbs are where it's at! You'll do yourself and your organization a big favor by shifting to a verb-first approach to language.
There they are–the five assumptions and the shifts you should make if you want to use language to make the world a better place!